Vidovich Vineyards
We are pleased to provide on-site catering for any events at The Vidovich Winery (corporate, Social etc..)
Please inquire within by calling 408.720.8500 and ask for the Sales department.
Come and Visit The Vidovich Vineyards!
Enjoy unparalleled views of the Bay area, Apple's starship and more! Come and experience the mountains of Cupertino! Great for wine tasting, parties or estate rental.
The Climate and soil conditions make the Monte Bello wine region of the Santa Cruz Mountains "the most hallowed ground in California," according to Ian Brand of I. Brand & Family Wines. The San Francisco Chronicle calls Montebello Road "California's greatest Cabernet tour" – even better than Napa.
Vidovich Vineyards, which specializes in Cabernet Sauvignon, has the good fortune of being located on the top of this world-renowned region for making wine. The climate is cooler than Napa which allows Vidovich Vineyards to make Cabernet Sauvignons of greater elegance and complexity. Weather conditions include large temperature swings and extended sunlight on the grapes. The tough conditions force the grapevines to work harder, which concentrates flavor in the fruit. Perhaps most important of all, however, is the rocky soil. Vidovich Vineyards is located next to the San Andreas Fault, which creates limestone in the soil through an amazing geological phenomenon involving tectonic activity, seawater, and gasses from the earth's core. The limestone in the soil helps create more elegant and structured fruit.
Vidovich Vineyards also boasts the most gorgeous and breathtaking view in the entire Bay Area. From the winery, visitors can enjoy a panoramic view of entire Bay Area from, including all of Silicon Valley, San Jose, and San Francisco on a clear day.
Please Click on this Link to Book Weekend Wine Tasting Package
Subscribe to the Winery email for more information regarding wine tasting, discount and more. Email info@vidovichvineyards.com for more information!
Wish to organize a Birthday, Wedding for small or large attendees at the Estate or want to stay over? Contact us directly at info@vidovichvineyards.com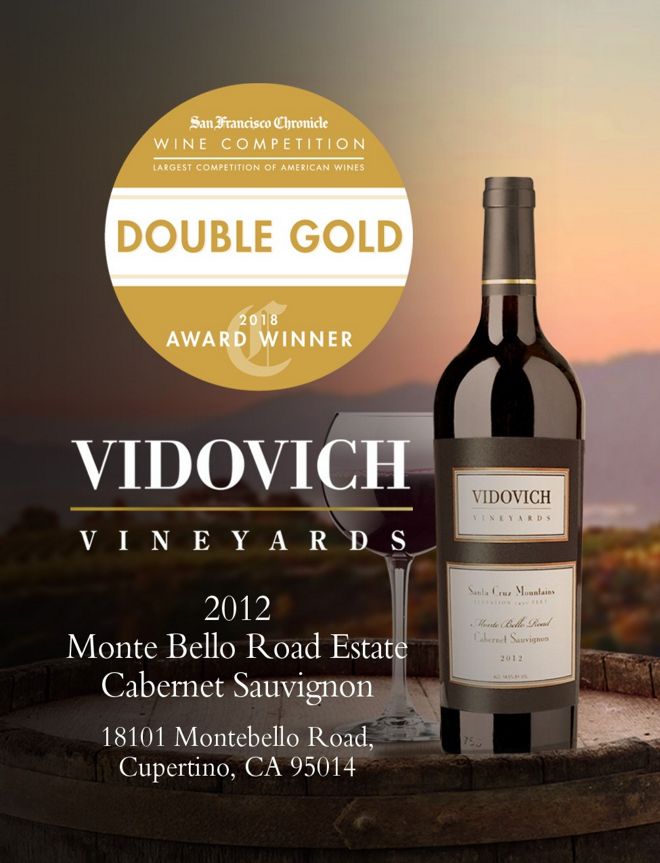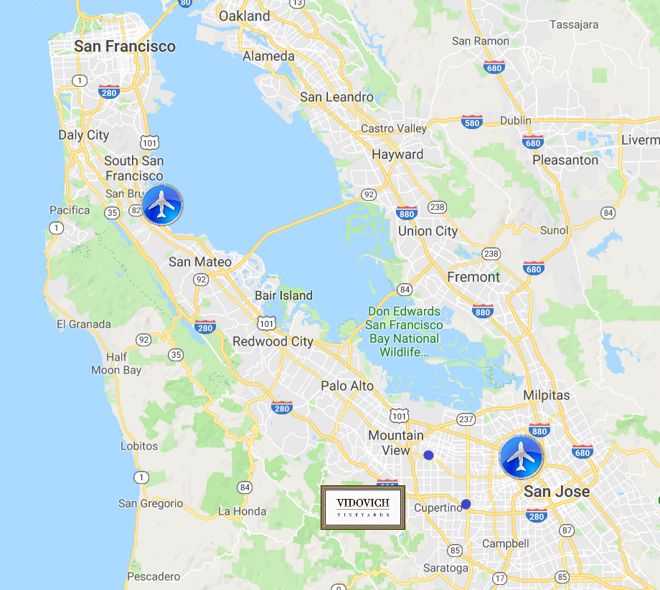 Vidovich Vineyards address: 18101 Montebello Rd, Cupertino, CA, 95041
Hours: Vidovich Vineyards is open from 12 Noon to 5PM on Saturday & Sunday ONLY and by appointment.
Directions from The Grand Hotel:
"To drive to Vidovich Vineyards from The Grand Hotel, head east toward El Camino Real and turn right on El Camino Real. Turn left after El Pollo Loco onto S Mary Avenue. Turn right onto W Fremont Avenue. Turn left to merge onto CA-85 S toward Cupertino. Use the right lane to take exit 19A to merge onto I-280 N toward San Francisco. Merge onto I-280 N and take exit 13 for Foothill Expressway. Turn left on Foothill Expressway and continue straight when the road turns into Stephen's Canyon Road. Turn right on Montebello Road. Take Montebello Road to the top until you reach the winery at 18101 Montebello Road in Cupertino. You will see signs for Vidovich Vineyards along this road as you head up."